Infertility Treatment
Failure to produce a clinical pregnancy after 12 months or more of regular, unprotected sexual activity is considered infertility. Couples' ability to conceive may be affected by factors like weight, food, smoking, illnesses, other substance addiction, environmental toxins, medications, and family medical history. Either partner may be the cause of infertility. For men, infertility is typically caused by a lack of sperm or sperm of poor quality, whereas for women, it is caused by irregular egg production or by blocked or damaged fallopian tubes, which prevent sperm from reaching the eggs. Female infertility is a major disorder that has affected humanity because it prevents conception and reproduction. Other factors that contribute to female infertility include a stressful world, excessive radiation, a lack of biological food, genetic disorders, changing lifestyles, and increased electric discharge. Without the aid of contemporary medical advancements, Ayurveda has been successful in treating infertility for thousands of years because it allows infertile women or couples to become fertile through treatment and improves their general health so they can conceive naturally without the help of western medicine.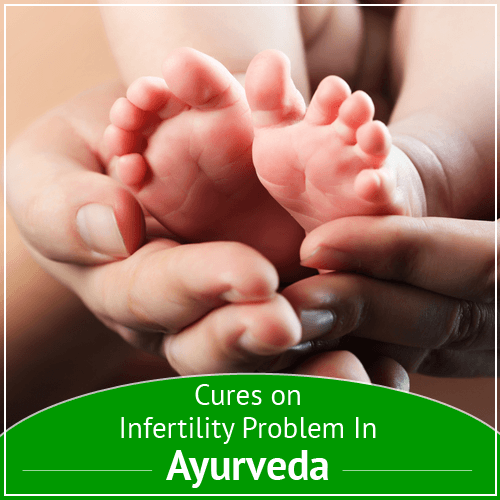 Ayurvedic concept of Vandhyatva (Infertility):
The science of Ayurveda has its own system of diagnosis and therapy. Infertility is defined by the Ayurveda classics as the inability to conceive a child rather than pregnancy because it can also entail garbha strava (repeated abortions) and mrutvatsa (repeated stillbirths). Important components of the garbha (foetus) include the following: 1) Rutu (fertile period), 2) Kshetra (reproductive organs), 3) Ambu (nutritive fluids), 4) Beej (ovum), as well as healthy psychological status, appropriate Vata function, and shadbhava (Six factors – mother, father, atma, satva, satmya, rasa). Infertility results from any deviation from normal in these variables.
Infertility types described in classical sources
1. Vandhya: total sterility and incurable
2. Apraja: it is possible for women to become pregnant, and it is treatable.
3. Sapraja: a woman who develops infertile throughout her childbearing years after having conceived one or more children.
Several factors, such as diet, emotional instability, excessive physical activity, lifestyle, and stress [8] that lead to a dosha imbalance, can have an impact on the menstrual cycle, which serves as a sign of the health of the female (control the activities of the body-Vata, Pitta and Kapha).
Ayurvedic treatment for infertility:
1. Ashwagandha Churna and Kapikacchu: These two medications are well renowned for raising sperm counts and quality.
2. Phala Gritam: This is an Ayurveda drug used to treat infertility in women. This medication, which is used as liquefied butter combined with milk, is advertised to alleviate functional issues but not structural inadequacies.
3. Guduchi, Gokshura, and Triphala Churna: These medications are used to remove obstructions in the body that stop the shukra dhatu from producing.
4. Shatavari: In Ayurveda, this is the sole female remedy used to cure female infertility.
TREATMENTS
1. Nashtartava: Matsya, kulattha, amla padartha, tila, masha (udida), sura (madya), gomutra (cow's urine), takra, dadhi (curd), and shukta should be used to treat it, according to Acharya Sushruta.
2. Artavkshaya: Agaru, Kaleyaka, Kushtha, Haridra, Sarala, Langali, and other Agneya dravyas should be utilized. Panchakarmadi sanshodhana ought to be performed as well. Here, Dalhanacharya, a Sushruta commentator, suggests that only Vaman be taken into consideration for shodhan.
3. Ashta Artavdushti: For this artavdushti, Sushrutacharya gave the vidhivat snehan, svedana, Vamana, Virechana, Niruhabasti, Anuvasan basti, and Uttarabasti chikitsa.
4. Arajaska Yonivyapada: Jivaniya gana dravya siddha godugdha is the treatment Charakacharya gave to Arajaska Yonivyapada. The following treatments are also recommended by acharyas since arajaska yonivyapada is brought on by vitiated Pittadosha: Vasaghrita, Shatavari Ghrita (from Raktapitta chikitsaddhyaya), Jivaniya Kshiraghrita, and Uttarbasti with Madhura Rasa Dravya Decoction and Milk, or Godugdha (from Pitta Yonivyapada chikitsa).
5. Rasayana Chikitsa: The Ayurvedic treatment for Indriya-bala-kshaya vyadhi is rasayana chikitsa. Shilajatu rasayana (Loha Shilajatu should be utilised), Chyavanprasha, and other remedies are hence advantageous. Immunomodulatory medications such as Guduchi, Kantakari, Brihati, Gokshur, Bhrungraj, Yashtimadhuk, Pippali, Bharangi, Padmakashtha, Rasna, Manjishtha, Sariva, Ushir, Chandan, etc. can be used to treat TORCH infections.
PCOD (Polycystic Ovarian Disease)
Insomnia
PCOD (Polycystic Ovarian Disease)
PCOS is a frequent endocrinopathy that manifests as oligoovulation or anovulation, symptoms of hyperandrogenism, and several tiny ovarian cysts. It is a complex and polygenic illness.
Around 5-12% of women in the population have PCOS, a female endocrine condition that affects them while they are still able to reproduce. It can cause infertility and is frequently associated by obesity and irregular menstrual cycles. Because it manifests in various organs in a complex way, it is referred to as a syndrome.
Individuals experience different signs and symptoms throughout time. Menstrual irregularities, infertility, obesity, depression, sleep apnea, and insulin resistance are all negative effects on the reproductive system that, over time, may lead to diabetes mellitus, endometrial cancer, cardiovascular disease, and other conditions.
Early treatment is important for PCOS. In order to prevent complications and chronicity, early diagnosis and prompt treatment are essential. A delayed diagnosis could result in long-term problems.
PCOS is one of 20 diseases in the Yoni Vyapat chapter of Ayurveda, which deals with utero vaginal issues.
Ayurveda defines PCOS as a condition involving the three Doshas, also known as Dhathus like Rasa, Raktha, and Medas. Rasa, Rakta, and Arthava Vaha are the Srothas engaged in this disease, which finally appears as traits like Anarthava (amenorrhea), Vandhyathwa, Pushpagni, and Abeeja rtuchakra (anovular bleeding).
Cause of PCOS
PCOS develops when an ovarian cycle's follicular growth is hampered by a hormonal imbalance. The afflicted ovarian follicle doesn't burst and release an egg; instead, it stays inside the ovary. The follicle subsequently develops into cysts, and numerous fresh cysts may appear throughout each reproductive cycle. Polycystic ovarian syndrome gets its name from the Latin word for many, poly.
Any sickness is viewed as an imbalance in the venerable science of Ayurveda. PCOS is categorised as a kapha condition in Ayurveda. The organ in the female body that controls reproduction is known as arthava dhatu, and the passageway where the ovarian fluid travels is known as artavavaha srota. When too much kapha interferes with these fluids' and channels' normal, balanced flow, PCOS is the result. In addition to PCOS symptoms, movement is restricted and metabolism is impaired.
The main causes of PCOS are poor nutrition and lifestyle choices, such as mental stress and a lack of exercise, as well as extended and excessive use of hormonal birth control tablets.
PCOD common symptoms
1. Menstruation may be more or less frequent due to less frequent ovulation in irregular menstrual cycles (release of an egg)
2. Some PCOS patients experience amenorrhoea, or no periods, sometimes for years.
3. Excessive development of face or body hair (or both)
4. Acne
5. Loss of hair on the scalp
6. Reduced fertility (difficulty conceiving), caused by infrequent or nonexistent ovulation
7. Mood swings, including despair and anxiety
8. Obesity
9. Insulin sensitivity
PCOD Ayurvedic Management
Ayurveda has a comprehensive strategy to manage PCOS. The goal of individualised care is to cure the disease's underlying cause and restore the body's natural balance.
The guidelines for ayurvedic PCOS therapy are as follows:
– Body detoxification with ayurveda
– The female reproductive system should be strengthened and revived.
– The correction of hormonal imbalance
– Handling insulin resistance and obesity.
Following a thorough assessment, an Ayurveda specialist creates a customized regimen.
By eliminating toxins from the reproductive system, including the uterus, ovaries, fallopian tubes, and vagina, panchakarma addresses the underlying reason. Virechana (therapeutic purgation), uttar vasti (uterovaginal enema), and vasti are a few of the common techniques (colonic enema).
After the panchakarma, the female reproductive system is balanced and revitalized using certain herbs and techniques. Phytoestrogen, which is abundant in Ayurvedic medicines, has been shown to significantly reduce insulin resistance and inflammation.
Insomnia
One of life's greatest elixirs and tonics is sleep. It is a natural rejuvenator for all earth's living things. The numerous sleep disorders are influenced by any changes in the sleep's patterns, quality, or amount. In addition to being common in many psychiatric diseases, sleep disruptions are also components of the diagnostic criteria for specific disorders.
Insomnia is the most common clinical representation, where it is 40% more common in women than in men. It can be diagnosed as severe insomnia where females are sleeping for less than 3.5 hours and males are sleeping for less than 4.5 hours which may lead to reduced life span.
In truth, insomnia is a condition as well as a symptom. More people suffer from chronic insomnia than from heart disease, cancer, AIDS, diabetes, and a number of other serious illnesses. According to documented studies, untreated insomnia raises the risk of disorders like depression, diabetes, hypertension, and even death in older people. Consequently, it is crucial to recognize and handle the insomnia situation as soon as possible.
Ayurvedic approach to insomnia
According to Ayurveda, one of the triads for sustaining life is sleep, or nidra. The classics use the term "Nidranasa" to explain how the same might change, how etiopathogenesis works, and how to regulate it. Such a situation is caused by the aggravation of the doshas—Vata and Pitta—as well as the depletion of the dosha—Kappa—among the three doshas that regulate human physiology. Moreover, the functioning of the dosha in relation to the operation of manas, or Rajas, controls sleep. As a result, it may show up in both physical and psychological diseases. The vata dosha encourages the beginning of sleep, and the pitta dosha encourages the continuation of sleep.
According to the etiology, the aggravation of Vata in nidranasa will further vitiate the other doshas, Pitta and Kapha. Vatha and manas function in a way that is extremely similar. When Hathayoga Pradeepika stated that the mind becomes active on the light of Vatha, she brought attention to the interrelationship between Vata and Manas. Vatha kopa also causes dhatukshaya, which can actually cause the ojus to be depleted and cause both somatic and physical diseases. Thus, in the management of Nidranasa, Vta regulation is of utmost significance.
Management:
Regardless of the medical system we are using, treating insomnia requires a very thorough approach. Both resolving the sleep issues and raising awareness of good sleep hygiene should be the first steps in management. Since many sleep disorders are related to the affected person's lifestyle, a thorough history of all aspects of life style, including sleep, must be found. 
The importance of maintaining regular bedtime and arousal times, abstaining from excessive caffeine, avoiding heavy meals just before bed, getting enough exercise, and engaging in mental relaxation techniques like listening to music before bed are all part of good sleep hygiene. The causes of the issue may be hidden by daily behavioral variations and fluctuating levels of insomnia. A thoroughly explained sleep hygiene program with follow-up is a relatively cheap but highly effective intervention.
Even while there are medications that can help people fall asleep, no one encourages the continued use of these substances because it can lead to dependency and addiction in many people. Another significant problem with long-term sedative usage is the adverse consequences, which include depression, suicidal or self-injurious thoughts, anxiety, aggression, restlessness, hallucinations, and more. So, in order to improve the quality of life for those who are affected, the management alternatives in alternative medications should be encouraged.
Insomnia can be managed at Outpatient level in mild to moderate cases , to perform the shodhana ie., the purification therapy. The shodhana therapy is followed by purification therapy of the heads per demand from the condition. The next step is to perform procedures such as sirodhara, sirobasti, sirolepa, etc which are performed on the head with required medicines.
The commonly used drugs are the ones that help relax the mind. Some of them are Tagara (Valerian Wallichi), Jatamansi (Nordostachys Jatamansi), Somalata (Sarcostemma Acidum) and Aswagandha (Withania Somnifera). Giving a gentle head massage on the head with the use of selected mixture of curia (powder) and tailam (oil) is usually done. Similarly, Pada abhyangam is also conducted.
If any clinical condition is a contributing factor to insomnia and needs to be treated effectively, the use of the media Ramayana group of medications, which includes mandookaparni (Centella asiatica), sankapushpi (Convolvulus pluricaulis), etc., has also been demonstrated to be effective in managing insomnia. Insomnia can be effectively treated with medial medicines that affect Vatha and Pitta dosa. The goal is to reduce tension and help the person achieve a deep state of relaxation. Deep relaxation eventually helps the mind return to normal and stabilize.
It is advantageous to use behavioral therapies such stimuli control, relaxation, sleep restriction therapy, and cognitive and behavioral therapies. While treating primary insomnia, cognitive behavioral therapy also yields substantially superior results.
Neck Pain
Shoulder Pain
Back Pain
Knee Pain
Neck Pain
When you experience neck pain, it can be hard to know what to do. It's important to understand that there are actually several different types of neck pain, and that they often stem from different causes.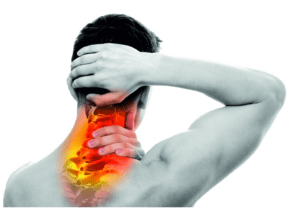 What are the Causes for Neck Pain
Neck pain is a common problem that affects the muscles, ligaments and bones of the neck. The most common cause of neck pain is an injury to your shoulder or chest.
Tension headaches – These are caused by pressure on different parts of your head (frontal lobe) when you put stress on them for too long.
Solution for Neck Pain
Neck pain is a common condition that can be caused by many different factors. It can be treated with ayurveda.
Precautions for Neck Pain
1)  Avoid sitting for long periods of time.
2) Don't hold your neck in awkward positions for long periods of time.
3) Don't sleep on your stomach and avoid sleeping on your side with a pillow between your knees if you have neck pain because this can increase pressure on the spine, which is one cause of cervical spondylosis (a condition that causes degeneration and narrowing of disks).
Shoulder Pain
Shoulder pain is an incredibly common condition that affects millions of people every year. In fact, sholder pain is so common that it can be used as a diagnostic tool for other medical conditions.
What are the causes for shoulder pain
1) Shoulder pain occurs due to inflammation or injury of the tendons, muscles, ligaments and joints. The most common causes are age-related osteoarthritis, rotator cuff tears and bursitis.
2) Shoulder pain can also occur due to poor posture or improper lifting.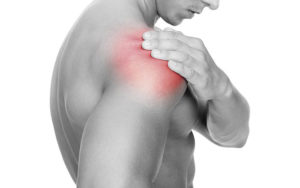 Solution for Shoulder Pain
Shoulder pain are caused by the improper working of muscles and joints. If the weight is not properly supported, the body undergoes undue stress. This can cause pains on either side of the neck. Most recommended natural treatments are Shloka, Medhya Ras, Prameha Vardhini churna, Kashayam, Vasthi etc.
Precautions for Shoulder Pain
If you suspect that you are experiencing sholder pain, there are several things you can do to prevent further injury.
Avoid any physical activity that causes pain. The best way to avoid this is by resting as much as possible and avoiding activities like lifting objects or carrying them around all day if at all possible.

Ask for help with lifting and carrying objects if necessary (e.g., asking someone else).
Back Pain
Back pain is a common problem. It can be caused by stress, poor posture, or problems with the discs in your spine. Back pain is often treated with medication and other treatments like massage therapy. But there are some natural remedies that can help you deal with back pain without having to take any drugs or get surgery.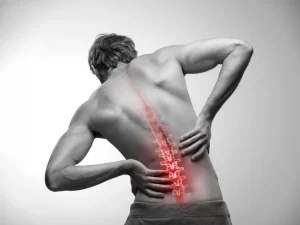 What are the causes for back pain
Back pain is a common problem. It can be caused by stress, poor posture, or problems with the discs in your spine. Back pain is often treated with medication and other treatments like massage therapy. But there are some natural remedies that can help you deal with back pain without having to take any drugs or get surgery.
Solution for Back Pain
Ayurvedic treatments can be used for back pain from any number of causes: trauma (such as falls), muscle strain or spasm (such as getting out of bed), degenerative joint disease (osteoarthritis) or cancerous tumors. These conditions may require different types of treatment depending on what exactly caused them in the first place and when it happened last
Precautions for Back Pain
Avoid lifting heavy objects.

Don't sleep on your stomach.

Don't carry heavy bags or backpacks, or use a backpack for long periods of time.

Try to avoid sitting for long periods of time at work or school (or anywhere else).

Try to avoid smoking, drinking alcohol and other things that may increase blood pressure and make back pain worse!
Knee Pain
Knee pain can be caused by a number of things. The most common causes of knee pain are sports injuries or injuries sustained in accidents. However, there are other causes of knee pain that do not involve injury or trauma in nature, such as arthritis or osteoarthritis.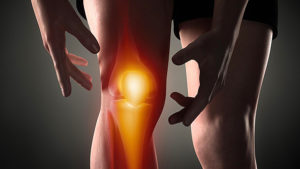 What are t
he causes for Knee Pain
There are several different causes for knee pain. The most common cause is an injury to the knee joint, but it can also be caused by arthritis.
Knee injuries: A fall or trip on the stairs may result in a sprain or tear in your ligaments (the bands of tissue that connect bone to bone). If you sustain an injury to your ligament, you may experience pain when walking or running long distances without pain medication.
Solution for knee pain 
The solution for knee pain from ayurveda is to use hot water, ice pack and oil massage. You can also use herbal oil for the same purpose.
Ghee is a good option for knee pain in this condition because it has many medicinal properties and helps to reduce swelling and inflammation around your joints.
Precautions for knee pain
Avoid junk food and drink plenty of water, both before and after exercise.

Sit for long periods of time: avoid sitting cross-legged for more than an hour at a time (or even less if possible).

Keep your knees bent while sitting; keep them straight when standing up from a sitting position or lying down in bed 
For dealing with this, we offer different services for you to choose from.
Sandhi Paricharya  – Treatment involves Kati Basti or Janu Basti or Greeva Basti
Kati Basti – Kati Basti is a soothing treatment where a large quantity of warm herbalised oil is retained on your lower back to relieve pain, stiffness and inflammation 
Janu Basti – In Sanskrit,'Janu' means knee and 'Basti' means to retain. Janu Basti addresses the pain, stiffness, and discomfort of the knee.
Greeva Basti – Greeva Basti is bathing the neck region with medicated oil or freshly prepared herbal decoction.
For dealing with this, we offer different services for you to choose from
Benefits of Pain Management
Personalized Care

Higher self-esteem

Improved mobility and reduced pain
262/1, BEML 3rd Stage, Remco Bhel Layout, Ideal Homes Twp, RR Nagar, Bengaluru, Karnataka 560098

+919606018808 / 080-42174234

info@nesaraayurveda.com
262/1, BEML 3rd Stage, Remco Bhel Layout, Ideal Homes Twp, RR Nagar, Bengaluru, Karnataka 560098

+919606018808 / 080-42174234

info@nesaraayurveda.com